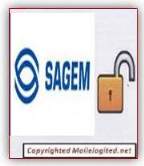 ORDER SERVICE / UNLOCK, SELECT THE SERVICE AND CONTINUE
---
---
SAGEM MOBILE - TOP MODELS HAS BEEN UNLOCKING BY CODE IMEI
Sagem my 202x
Sagem my 400x
Sagem my 600X

Sagem my 700x
Sagem my 900C
Sagem my 901c

Sagem myC-2-3
Sagem myC-3-2
Sagem SG321i
---
Unlock

Sagem

with the peace of mind that you will not lose any data stored on the mobile or the guarantee of the terminal. If you want to release your mobile Sagem priced only at mercado visit

Mobilelogitec - Phones, Software & Solution LTD

, in the release of mobile, our company has the best technical and human resources, with a team of high-tech and logistics necessary to become leaders in our field.
¿To you expect to enjoy of freedom on your mobile?
Send us your questions and suggestions about the services of

Mobilelogitec - Phones, Software & Solution LTD

through our email address and contact phone. Will be a pleasure to serve you